Sizing Tips
Sizing Tips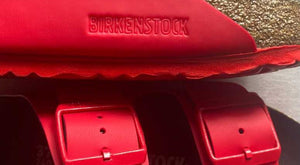 When it's your first time buying Birkenstock, whether it be the classics Arizona, the crisscross Mayari or the one strap Madrid, then it can be daunting. Your foot needs to sit IN to the heal cup, not ON the back of it. This will quickly break down the cork on the Birkenstock footbed.
The basic rule is; Birkenstock tend to fit big. If you are in-between sizes then we recommend you size down. 
The best thing about Birkenstock is that once you know your size and style then you know exactly what you are getting each time you buy a pair. Loads of people come into us, they've worn Birkenstock before. They know the what styles they like. They just ask; What's this seasons new colours?